INEO's continued growth delivers the best third quarter in Company history.
INEO remains on track with Welcoming System deployments and has expanded reach to over 18 states across the Unites States with major retail partners.
Surrey, BC – May 30, 2023 – INEO Tech Corp. (TSX-V: INEO; OTCQB: INEOF) (the "Company" or "INEO"), the innovative developer and operator of the INEO Media Network, a digital advertising and analytics solution for retailers, today announced it has filed its Interim Consolidated Quarterly Financial Statements and Management's Discussion and Analysis on SEDAR.com for the Company's fiscal third quarter ended March 31, 2023.
"We are satisfied with our third quarter results in which we reported a 19% increase in revenue," said Greg Watkin, Chairman and Founder of INEO. "During the first half of 2023, our primary focus has been to accelerate our roll-out plans and accomplish significant progress in our Welcoming System deployments. We are currently on track with our deployment schedule, working alongside our major retail partners, and are excited to have a presence in over eighteen states across the United States. We anticipate our revenues to ramp up in the coming quarters to reflect the increase of Welcoming Systems on the INEO Media Network, as our systems initially require a few months to collect store demographic data and analytics before advertisers start ramping on the platform. Furthermore, considering the current economic climate, it is vital for us to optimize our operations and allocate resources more efficiently for sustainable growth and long-term success. To that end, we have begun implementing cost saving initiatives and workflow optimizations to reduce our expenditures so that we can balance the growth of our network while maintaining a disciplined cost structure for our operations."
Fiscal Third Quarter 2023 Financial Highlights:
INEO generated $398,730 of revenue for the three months ended March 31, 2023, representing an increase of 18.8% as compared to revenue of $335,568 for the three months ended March 31, 2022.
INEO generated gross profit for the three months ended March 31, 2023, of $157,116, as compared to gross profit of $203,550 for the quarter ended March 31, 2022.
INEO achieved gross margin percentage of 39.40% for the three months ended March 31, 2023, compared to gross margin percentage of 60.66% for the quarter ended March 31, 2022.
Net loss for the three months ended March 31, 2023 was $709,852 or $0.01 per share compared to net loss of $773,982 or $0.01 per share for the three months ended March 31, 2022.
Adjusted EBITDA loss for the three months ended March 31, 2023 was $629,423, compared to Adjusted EBITDA loss of $670,272 for the three months ended March 31, 2022.
INEO had $1,239,448 of cash and cash equivalents at March 31, 2023, compared to $1,706,048 of cash and cash equivalents at June 30, 2022.
As at March 31, 2023, the Company had 76,143,709 shares issued and outstanding.
Fiscal Third Quarter 2023 Business Highlights:
On January 11, 2023, INEO debuted the first RFID (Radio Frequency Identification) enabled version of INEO's Welcoming System at the National Retail Federation's "NRF 2023 – Retail's Big Show". INEO was showcased at the Prosegur Security booth and a demo of the new system was on display. With RFID enabled systems not only do retailers know an item is being stolen, they also know exactly which item.
On February 8, 2023, INEO added the Welcoming Greeter to its suite of retail media network products for retailers. The Welcoming Greeter is a stand-alone pedestal-based advertising display which delivers expanded messaging and increased advertising capabilities for retailers. INEO is now positioned with the most complete and comprehensive suite of Retail Media Network products for retailers, with systems build for every part of the retail store.
Events Subsequent to March 31, 2023:
On April 27, 2023, the Company announced it has successfully completed installations in over 70 retail store locations in 18 states across the United States with its Major Retail Partners. INEO estimates current customer foot traffic to exceed several million shoppers per month in its installed locations with these Major Retail Partners. These installations include several major cities such as New York City, Los Angeles, San Francisco, Chicago and Phoenix.
Kyle Hall, CEO of INEO commented on the Company's progress, "We continue to be aggressive in expanding our network with our global distribution partner, Prosegur, and expect to be sharing new customer agreements and updates in the coming quarters. Additionally, with the rapid expansion of our Welcoming System Network, increasing our advertising fill rates has been a major priority for INEO. Our systems are installed in highly attractive retail stores and we are actively working with our major retail partners to increase the number of ad placements on the network. In addition, we are fully committed to propelling INEO towards the next stage of growth and acknowledge the need to strategically balance driving revenue growth through the expansion of our network while maintaining low costs and reducing expenditures. We look forward to providing further updates in the coming months."
Outlook:
INEO is now actively deploying systems and ramping up its installation locations with contracted customers across North America. INEO is landing pilot wins with large retailers, expanding its location footprint, and ramping up its revenues. In particular, the Company is making significant progress with a major retail partner who has over 1,000 store locations across the United States.
INEO's key objectives for fiscal 2023 are as follows:
Increase revenues through the deployment of systems to INEO's leading retail customers.
Expand the INEO Media Network, in key geographical markets across North America and South America
Support Prosegur with its growth and initiatives with key retailers across the globe, including converting large retail customers from trialing the Welcoming System to fully contracted customer roll-outs.
INEO's technology has been proven out and has been validated by a global partnership with Prosegur. INEO has created a healthy sales pipeline consisting of both direct sales customers and Prosegur's customers, including grocery, home hardware, apparel and wholesale club retail chains from North America, South America and Europe. INEO has seeded the market with trial systems and expects to convert these trials into full scale roll-outs in the coming quarters.
Advertising and analytics are becoming increasingly important in the modern retail environment as retailers continue to invest in retail technology to improve the customer experience. INEO is well positioned to take advantage of these trends with its market leading technology and programmatic advertising partners which will enhance the Company's future growth. INEO's current focus is to continue to accelerate its deployments of INEO Media Network and create a critical mass of systems.
Select Financial Highlights: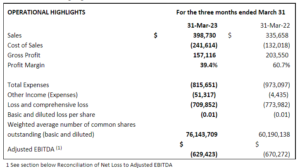 Footnotes:
Readers are cautioned that Adjusted EBITDA (earnings before interest, taxes, depreciation and amortization and Stock Compensation), does not have standardized meanings prescribed by IFRS and is considered a non-IFRS measure. Adjusted EBITDA is a useful supplemental measure of the Company's performance prior to consideration of how operations are financed or how results are taxed or how depreciation and amortization affects results. Adjusted EBITDA is not intended to represent net earnings calculated in accordance with IFRS.
On behalf of the Board of Directors
Kyle Hall, CEO,
INEO Tech Corp.
About INEO Tech Corp. (TSXV: INEO; OTCQB: INEOF)
INEO Tech Corp., through its wholly owned subsidiary, INEO Solutions Inc., operates the INEO Media Network, a digital advertising and analytics solution for retailers. INEO's patented technology integrates and monetizes digital screens with theft detection sensor gates at the entrance of retail stores. The Company's cloud-based platform uses IoT (Internet of Things) and AI (Artificial Intelligence) technology to deliver customized digital advertising to each retail location based on the demographic mix, such as age and gender, of customer traffic at each location. The Company also deploys the INEO Welcoming Network technology through a SaaS-based solution to larger retail chains. INEO is headquartered in Surrey, Canada and publicly traded on the TSX-Venture Exchange under the symbol "INEO" and on the OTCQB-Venture Market under the symbol "INEOF".
For more information please visit:
Website: www.ineosolutionsinc.com
LinkedIn: www.linkedin.com/company/ineosolutions
Facebook: www.facebook.com/ineosolutionsinc
Instagram: www.instagram.com/ineosolutionsinc
Twitter: www.twitter.com/INEOsolutions
Forward-Looking Statements
Investors are cautioned that, except as disclosed in the disclosure document, any information released or received with respect to the Company may not be accurate or complete and should not be relied upon. Trading in securities of the Company should be considered highly speculative.
This news release contains forward-looking information, which involves known and unknown risks, uncertainties and other factors that may cause actual events to differ materially from current expectations. Important factors – including the availability of funds, acceptance of the Company's products, competition, and general market conditions – that could cause actual results to differ materially from the Company's expectations are disclosed in the Company's documents filed on SEDAR, including the Annual Information Form for the year ended June 30, 2022 filed on SEDAR on November 4, 2022. Readers are cautioned not to place undue reliance on these forward-looking statements, which speak only as of the date of this press release. The Company disclaims any intention or obligation, except to the extent required by law, to update or revise any forward-looking statements, whether as a result of new information, future events or otherwise.
Neither the TSX Venture Exchange nor its Regulation Services Provider (as that term is defined in policies of the TSX Venture Exchange) accepts responsibility for the adequacy or accuracy of this release.
For further information:
Pardeep Sangha
Investor Relations, INEO Tech Corp.
(604) 572-6392