Advertise, Engage and Protect your Inventory.
Utilize the footprint of the retail loss prevention system located at the store front entrance to display marketing messages which engages the customer while protecting store inventory.No more printed cardboard signs to hide the EAS systems. Out with the old, in with the New Media Network.

Digital Signage
Manage content on the retail media screen with the click of a button

Loss Prevention
Integrated loss prevention plus video capture of alarm events with mobile notifications.

Cloud Dashboard
Schedule your content days /weeks in advance or change in real time.

Reporting & Monitoring
Generate detailed reports of system health and loss prevention events.
What is the INEO Welcoming System?
The INEO Welcoming System delivers a retail media networked display at the front entrance of the store. The system integrates a customer welcoming strategy to the retail marketing plans while creating another revenue stream for the store.
Plus, the store gets the EAS functionality for free.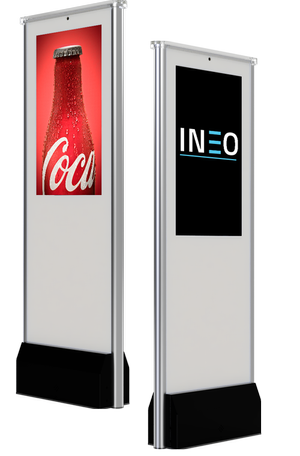 Get in Touch to learn more about INEO