INEO achieved 50% increase in year-over-year revenue and 92% increase in gross profit in fiscal second quarter 2023.
INEO is progressing quickly with its 2023 roll-out schedule having installed INEO Welcoming Systems across eleven states in the US.
Surrey, BC – February 28, 2022 – INEO Tech Corp. (TSX-V: INEO; OTCQB: INEOF) (the "Company" or "INEO"), the innovative developer and operator of the INEO Media Network, a digital advertising and analytics solution for retailers, today announced it has filed its Interim Consolidated Quarterly Financial Statements and Management's Discussion and Analysis on SEDAR.com for the Company's fiscal second quarter ended December 31, 2022.
"We are very pleased with our fiscal second quarter results in which INEO reported a 50% increase in revenue and a 92% increase in gross profit," said Greg Watkin, Chairman and Founder of INEO. "This calendar year has started off well for the Company as we are in the midst of the largest customer rollout in the Company's history. We shipped more units in the month of February than we did in the entire past year. Furthermore, the Company has large scale installations already booked in additional geographic areas within the United States. We continue to be active in installing more systems with our major retail partners, while also installing trial systems with potential new retail partners. We are very excited with the growth opportunities in our sales pipeline."
Fiscal Second Quarter 2023 Financial Highlights:
INEO generated $386,425 of revenue for the three months ended December 31, 2022, representing an increase of 50% as compared to revenue of $256,987 for the three months ended December 31, 2021.
INEO generated gross profit for the three months ended December 31, 2022, of $181,210, as compared to gross profit of $94,296 for the quarter ended December 31, 2021, representing an increase of 92%, driven by an increase in higher margin INEO loss prevention products.
INEO achieved gross margin percentage of 46.89% for the three months ended December 31, 2022, compared to gross margin percentage of 36.69% for the quarter ended December 31, 2021.
Net loss for the three months ended December 31, 2022 was $981,707 or $0.01 per share compared to net loss of $761,776 or $0.01 per share for the three months ended December 31, 2021.
Adjusted EBITDA loss for the three months ended December 31, 2022 was $856,281, compared to Adjusted EBITDA loss of $669,711 for the three months ended December 31, 2021.
INEO had $2,346,017 of cash and cash equivalents at December 31, 2022, compared to $1,706,048 of cash and cash equivalents at June 30, 2022.
As at December 31, 2022, the Company had 76,143,709 shares issued and outstanding.
Fiscal Second Quarter 2023 Business Highlights:
On October 19, 2022, INEO filed for a design patent in Canada for its INEO Welcoming Gate system, a companion system to the INEO Welcoming Pedestal. This patent has now been extended with a global priority filing to include the United States and Europe.
On November 17, 2022, completed its Public Offering of units, Private Placement of units and notes for total proceeds of C$2.74 million. The Offering was completed by way of a short-form prospectus. The Company intends to use the net proceeds from the Offering for the manufacturing and deployment of the INEO Welcoming System to existing and future customers, as well as for working capital and general corporate purposes.
On December 30, 2022, INEO announced the addition of Eugene Syho to its Board of Directors and Audit Committee. Mr. Syho brings a wealth of finance, technology and public company experience to the Board of INEO as a seasoned finance executive with over 25 years of proven financial management experience across many diverse industries.
Events Subsequent to December 31, 2022:
On January 11, 2023, INEO announced it would be debuting the first RFID (Radio Frequency Identification) enabled version of the INEO Welcoming System inside the Prosegur Security tradeshow booth at National Retail Federation's "NRF 2023 – Retail's Big Show" retail industry expo and conference in New York City
On February 8, 2023, INEO announced the Company's latest product innovation, the INEO Welcoming Greeter. The Welcoming Greeter is a stand-alone pedestal-based advertising display which delivers expanded messaging and increased advertising capabilities for retailers. With the debut of the INEO Welcoming Greeter, INEO has one of the most comprehensive and complete suites of Retail Media Network products on the market.
On February 22, 2023, the Company announced it has successfully completed installations in over 50 retail stores located in New York City, San Francisco, Los Angeles and cities in nine additional states including Tennessee, New Jersey, Pennsylvania, New Hampshire, Massachusetts, North Carolina, Virginia, Washington and Florida.
Kyle Hall, CEO of INEO commented on the Company's progress, "We have been making great strides in pushing forward the key INEO business initiatives. In the next quarter we expect to be installing a record number of systems into retail stores in the United States. Our technology has been accepted as unparalleled in the retail industry and we are building solid long-term relationship with our customers."
Outlook:
The overall outlook for INEO remains positive. The Company is now actively deploying systems and ramping up its installation locations with contracted customers across North America. INEO is landing wins with large retailers, expanding its location footprint and ramping up its revenues.
INEO's key objectives for fiscal 2023 are as follows:
Increase revenues through the deployment of systems to INEO's leading retail customers.
Expand the INEO Media Network, in key geographical markets across North America and South America.
Support Prosegur with its growth and initiatives with key retailers across the globe, including converting large retail customers from trialing the Welcoming System to fully contracted customer roll-outs.
INEO's technology has been proven out and has been validated by a global partnership with Prosegur. INEO has created a healthy sales pipeline consisting of both direct sales customers and Prosegur's customers, including grocery, home hardware, apparel and wholesale club retail chains from North America, South America and Europe. INEO has seeded the market with trial systems and expects to convert these trials into full scale roll-outs in the coming quarters.
As retailers continue to invest in retail tech for improving the customer experience, advertising and analytics are becoming increasingly important in the modern retail environment. INEO is well positioned to take advantage of these trends with market leading technology and programmatic advertising partners which will enhance the Company's future growth. INEO's current focus is to continue to accelerate its customer deployments to a create critical mass of systems on the INEO Media Network.
Despite the current challenging macroeconomic environment INEO is experiencing an increase in its sales activity leading to increased quarterly revenue over the past year. We look forward to announcing new customer wins in the coming quarters leading to substantial expansion of INEO's Media Network.
The Company also announces it has granted incentive stock options to certain directors, officers and employees of the Company to acquire an aggregate of 2,855,000 common shares in the capital of the Company at an exercise price of $0.12 in accordance with the Company's 10% rolling incentive stock option plan. The stock options vest 25% annually starting on February 28, 2024, the one-year anniversary of the grant date, and expire according to the terms of the Company stock option plan.
Select Financial Highlights: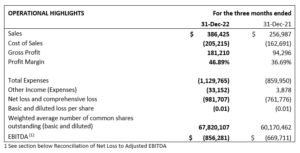 Footnotes:
Readers are cautioned that Adjusted EBITDA (earnings before interest, taxes, depreciation and amortization and Stock Compensation), does not have standardized meanings prescribed by IFRS and is considered a non-IFRS measure. Adjusted EBITDA is a useful supplemental measure of the Company's performance prior to consideration of how operations are financed or how results are taxed or how depreciation and amortization affects results. Adjusted EBITDA is not intended to represent net earnings calculated in accordance with IFRS.
On behalf of the Board of Directors
Kyle Hall, CEO,
INEO Tech Corp.
About INEO Tech Corp. (TSXV: INEO; OTCQB: INEOF)
INEO Tech Corp., through its wholly owned subsidiary, INEO Solutions Inc., operates the INEO Media Network, a digital advertising and analytics solution for retailers. INEO's patented technology integrates and monetizes digital screens with theft detection sensor gates at the entrance of retail stores. The Company's cloud-based platform uses IoT (Internet of Things) and AI (Artificial Intelligence) technology to deliver customized digital advertising to each retail location based on the demographic mix, such as age and gender, of customer traffic at each location. The Company also deploys the INEO Welcoming Network technology through a SaaS-based solution to larger retail chains. INEO is headquartered in Surrey, Canada and publicly traded on the TSX-Venture Exchange under the symbol "INEO" and on the OTCQB-Venture Market under the symbol "INEOF".
For more information please visit:
Website: www.ineosolutionsinc.com
LinkedIn: www.linkedin.com/company/ineosolutions
Facebook: www.facebook.com/ineosolutionsinc
Instagram: www.instagram.com/ineosolutionsinc
Twitter: www.twitter.com/INEOsolutions
Forward-Looking Statements
Investors are cautioned that, except as disclosed in the disclosure document, any information released or received with respect to the Company may not be accurate or complete and should not be relied upon. Trading in securities of the Company should be considered highly speculative.
This news release contains forward-looking information, which involves known and unknown risks, uncertainties and other factors that may cause actual events to differ materially from current expectations. Important factors – including the availability of funds, acceptance of the Company's products, competition, and general market conditions – that could cause actual results to differ materially from the Company's expectations are disclosed in the Company's documents filed on SEDAR, including the Annual Information Form for the year ended June 30, 2022 filed on SEDAR on November 4, 2022. Readers are cautioned not to place undue reliance on these forward-looking statements, which speak only as of the date of this press release. The Company disclaims any intention or obligation, except to the extent required by law, to update or revise any forward-looking statements, whether as a result of new information, future events or otherwise.
Neither the TSX Venture Exchange nor its Regulation Services Provider (as that term is defined in policies of the TSX Venture Exchange) accepts responsibility for the adequacy or accuracy of this release.
For further information:
Pardeep Sangha
Investor Relations, INEO Tech Corp.
(604) 572-6392